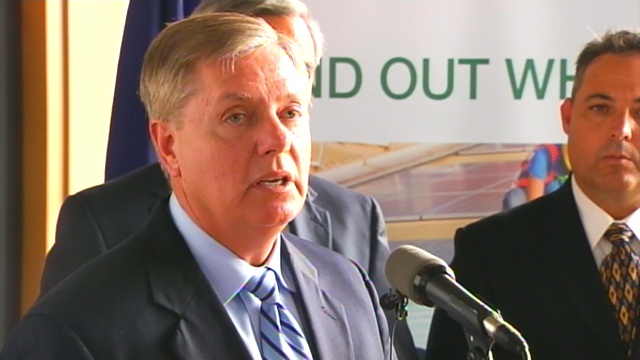 By JEFFREY COLLINS
Associated Press
ROCK HILL, S.C. (AP) - U.S. Sen. Lindsey Graham has begun his campaign for re-election in earnest. He's opened a half-dozen campaign officers across South Carolina in the past week.
Graham faces five opponents in the June primary, and it's shaping up to be the biggest fight of Graham's Senate career. Still, Graham is confident in winning a third term. He says he has a quiet majority of Republicans in his corner that can outvote the loud voices of opposition.
Graham's campaign has $7.6 million in the bank, while none of his five opponents have more than $260,000. Graham says he will spend a lot making sure people go out and vote. He says his campaign has signed up 5,000 precinct captains.
Graham will need 50 percent in the June primary to avoid a runoff.
Copyright 2014 The Associated Press. All rights reserved. This material may not be published, broadcast, rewritten or redistributed.