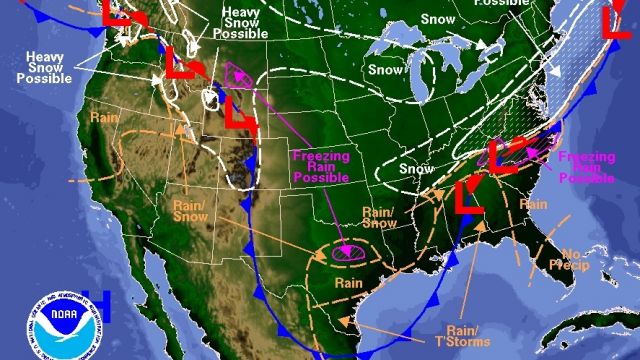 GREENVILLE, SC (FOX Carolina) -
Mother Nature is currently showing the United States whose boss. A significant storm system first entered the country out west hitting California. This brought lots of rain to a drought stricken state and sparked a single tornado in Yolo County on Friday.
For Saturday the system continued to track east and brought about an inch of rain to Phoenix, Arizona and yet another tornado for Maricopa county in the same state.
The Storm Prediction Center has put much of Louisiana under a slight risk of severe weather because of this system. Much of the Ohio and Mississippi river valley all the way to the central east coast and parts of New England are expecting some significant snow fall from this system. I am forecasting a range of 6-12" for hardest hit areas!
The Upstate and Mountains will not be spared by this system. The good news, however, is that we will see the lighter side of what this storm has to offer. We have held this system back long enough to enjoy a beautiful weekend but clouds will build overnight.
Rain will move into the area early Monday morning and stick around for the weekend. Rain can be moderate at times but I imagine rain totals to remains relatively low. Western North Carolina will have a slight chance of seeing a wintry mix toward the end of this system as the moisture moves out of our area.
Temperatures take a huge dip into Tuesday with highs about 10 degrees below normal for this time of year. This past weekend into Monday is just another reminder that weather affects us all.