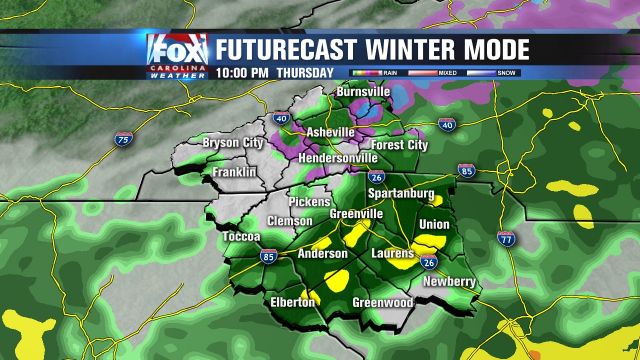 A cold rain is invading the Upstate, and that will turn to sleet and freezing rain for the mountains tonight. Even in the lower elevations we could get some periods of sleet as the rain takes over this evening. A Winter Weather Advisory is out for much of the mountains, and the northern section of Greenville county for light sleet/snow/ice accumulations. A Winter Storm Warning is in effect for Henderson, Buncombe and points east where accumulations could be more significant, causing some dangerous travel conditions.
Here's how it is shaping up. It's important to emphasize that the difference of 1-2 degrees could change the forecast. Right now the Upstate is set to be at 33-35 degrees tonight with rain, but if that turns a bit colder we could see freezing rain develop. Here's what I'm thinking:
Through 9pm tonight: Rain moves in from south to north. It should remain on the light side, with some sleet mixing in as the air cools.
9pm Thu. - 3am Fri.: Rain turns to sleet and freezing rain for much of the mountains, with some snow falling in the higher elevation spots. It should remain all cold rain for the Upstate, but isolated spots in northern and eastern sections (Travelers Rest, Landrum, Gaffney, Union, Newberry and surrounding areas) could get periods of freezing rain.
3am Fri.-9am Fri.: Rain continues, but will lighten up slowly. Wintry mix should wind down in the mountains.
9am Fri. - 3pm Fri.: off and on rain, slow clearing.
Stay posted on conditions and I'll bring you more updates on Facebook, Twitter and tonight at 10 & 11.