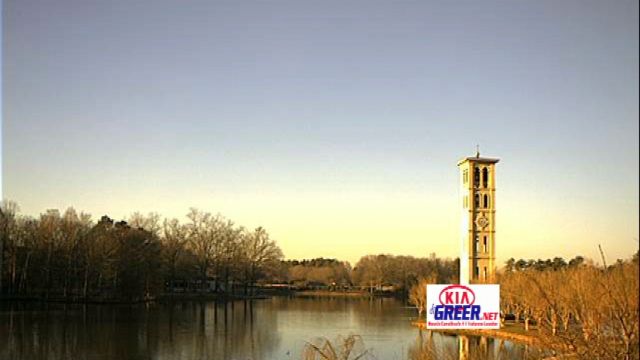 Here we are, 9 days away from the official start of Spring and the forecast calls for highs at or near 80° in the Upstate today. Western NC towns will see enough sunshine to get temperatures into the low 70s. The sunny weather we've had for the last 3 days continues today, but changes are on the way tonight.
Sitting in an area of southerly flow, moisture from the Gulf is being funneled into the southeast US. As a cold front approaches from the west late overnight, the moisture will be forced up into the atmosphere causing clouds to thicken and eventually bringing rain. This rain will move into our region shortly after midnight, and be present for the AM commute Wednesday. Low temperatures should remain in the 40s and 50s, so no snow is expected.
Wednesday continues with on & off rain (heavy at times) through the morning. The front passes in the afternoon, bringing another round of moderate rain and a few embedded thunderstorms. Upstate highs will reach near 70°, but the cooler as the cold front passes will reach Western NC first, halting highs near 60°. Mountain temperatures will start to fall through the afternoon.
Lingering moisture Wednesday night will be limited to the Tennessee border, where parts of Graham, Swain, Jackson, Haywood, Madison, Buncombe, Yancey and Mitchell counties could see scattered snow showers as the system pulls east. Snow totals should be minimal, with a potential for 1-2" along the highest peaks. Moisture ends and skies clear quickly Wednesday night, leaving temperatures in the mid-20s to low 30s area-wide.
Sunshine returns for Thursday, but with a northwesterly breeze, highs will only reach the 40s to low-50s.