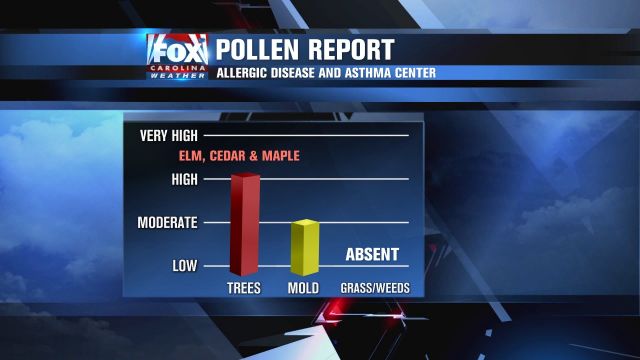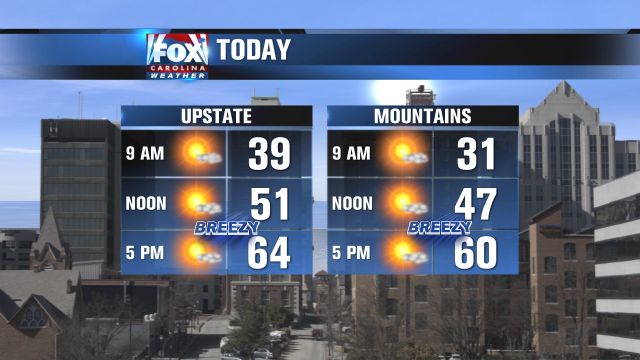 We're in for a gorgeous Friday afternoon! Once the morning chill in the 20s and 30s wears off, sunny skies dominate and highs will reach the low to mid-60s for our entire area. The light wind this morning will give way to a stronger breeze, 8-13mph from the southwest this afternoon, gusting up to 20mph.
If you're planning to spend time outdoors, be aware that tree pollen is now at "high" levels, which could effect you even if you don't have very sensitive allergies. Cedar, Maple, Elm, Oak, and Pine trees are the biggest issue currently. Mold spores are at a "moderate" level, and grasses and weeds have not yet become an issue this season.

Tonight, clouds will increase and there will be a slight chance for an early morning rain shower along the TN border, but otherwise staying dry with lows dropping into the 30s and low-40s.
Saturday, though some clouds will stick around, we're going to see a decent amount of sunshine break through. Highs should reach well into the upper 60s Upstate and into the mid-60s across the Western NC mountains. Late in the day, clouds will thicken up once again and the chance for rain increases as we get to early Sunday morning.
Once rain showers begin across our area Sunday morning, they'll stick around on and off all the way through Monday. Both Sunday and Monday will be cooler with highs stuck in the 50s. Sunshine moves back in Tuesday through Thursday, but highs remain cooler than average.