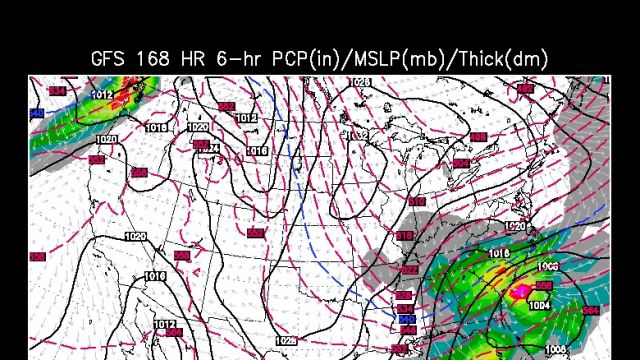 GFS model for next Tuesday at 1AM
GREENVILLE, SC (FOX Carolina) -
Our long range models are tracking a low pressure that develops along the Gulf of Mexico, then rides northeast along the east coast. This is a CLASSIC scenario that would bring us snow area-wide if all the ingredients lined up.
Right now the computer models are all over the place on the track of the low, but GFS model has hinted at a snow scenario in a couple of runs recently. It shows enough deep cold air and moisture in place by late Monday to allow for a few hours of snowfall. The ground would be fairly warm, so accumulations would probably be limited in this scenario.
And I must stress, I've only seen the snow potential in the GFS model. The European model keeps the low too far off the coast. It's something to monitor though, especially as the Canadian and NAM models start showing the early next week time-frame.
As far as the short-term, we'll have to deal with a bit more drizzle and light rain Wednesday morning, and perhaps a stray shower Wednesday evening. THEN... Spring arrives and bring phenomenal weather for Thursday and Friday! Highs will be near 70 with sunshine.

Can't really beat that huh?! Wouldn't it be funny to have that kind of weather, then snow on the ground about 5 days later. Hmm... Not a likelihood but definitely can't be ruled out.
Copyright 2014 FOX Carolina (Meredith Corporation). All rights reserved.