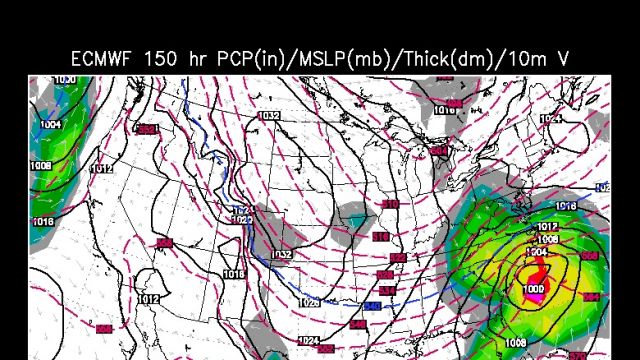 European model for Tuesday
Ted posted earlier, so this is just a quick addition to his forecast... After looking into the extended range on our models I'm growing a bit more confident that we'll see a snow or a rain/snow mix in the Upstate and northeast Georgia on next Tuesday. I'm thinking about a 30% chance right now. I was thinking 15% chance yesterday.
The European model has started to show a wintry mix for the Upstate starting midday on Tuesday, with the GFS continues to change from run to run. The GFS was the first to jump on the snow/mix bandwagon, but hasn't been very consistent.
The scenario that would bring us some snow would be a low pressure developing along the gulf coast then riding northeast along the coast. This would pump in a good amount of moisture, plus allow for cold air to wrap in. Right now it is looking like we would start with rain, then possibly finish with a rain/snow mix or all snow in the Upstate. The mountains would see a snow transition sooner. Heaviest moisture is staying to our south for now, so I wouldn't expect a huge event. Light accumulations would certainly be possible on grassy surfaces.
This will likely change and evolve, so keep up with the forecast! Just know that next Tuesday could bring back one more round of winter weather for all of us.