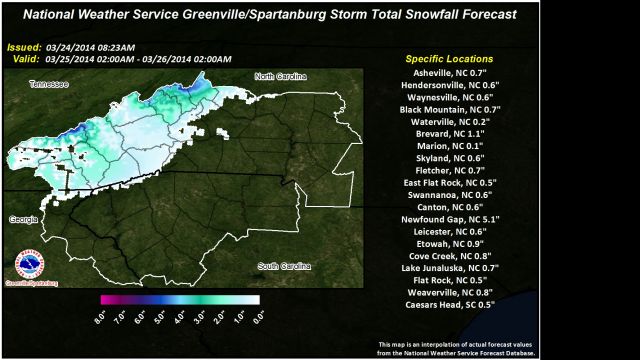 GSP National Weather Service Snow Total Forecast
High pressure is in place today,bringing sunny skies. But in the wake of the cold front from Sunday's rain, temperatures won't be able to make it out of the 50s. A new low pressure system is developing over Florida and will move up the coastline on Tuesday. That'll bring our next chance for wet weather.
Here's what to expect: Upstate on & off (cold) rain starting around 4am, with a possibility for a few snowflakes to mix in for areas north of the I-85 line. Scattered showers continue on & off all day, with drier weather moving in by the evening. The mountains will see snow by the morning commute, with a rain/snow mix in the afternoon. Take care on the roads, mountain towns could see some light accumulation. Mainly expecting around 1" overall, though with some of the snow melting as it reaches the slightly warmer ground, expect to see less snow piling up. There could be a few isolated high elevation TN border amounts up to 3", again though, take into account some on-contact melting.
Late Tuesday skies will clear, but that will help drop temperatures into the 20s for everyone, so by Wednesday morning, any lingering moisture will re-freeze on sidewalks and roads. This will be spotty across the Upstate, but our mountains will likely see ice on the roads. Wednesday we're back to sunshine with highs staying cool in the 40s and 50s, but we'll be back to warmer temperatures in the 60s by the end of the week.