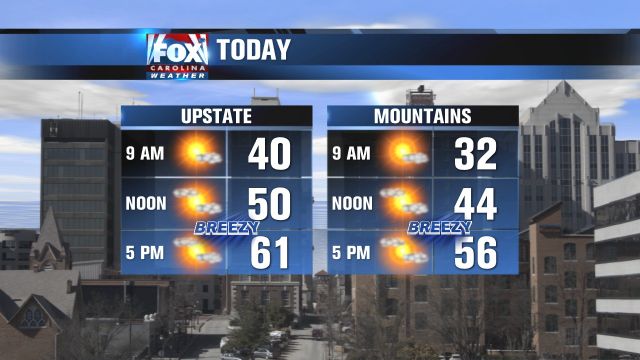 The upcoming days will feature a few changes in our weather pattern, the first being a southerly wind flow that will start the trend of warmer weather across our area. Today, with a mix of sun and clouds, that southerly flow will help to get our highs into the mid-50s and low-60s by the end of the day. While there is a slight chance for a passing shower today along the TN border, most of the wet weather should stay out of our area for now.
A cold front and associated low pressure system is forecasted to pass our region early on Saturday. In advance of this system, Friday looks to bring overcast skies and scattered rain, beginning in time for the morning commute. Despite the rain, the southerly flow will continue to funnel more warm air into our region, so highs will make it into the upper 50s and mid-60s.
Saturday, temperatures rise again. Near 70 in the Upstate, with mid-60s in the mountains, but as the low moves directly through our area, you can expect to have more on & off showers and even a possible thunderstorm on Saturday throughout the day. The skies should begin to clear out by late afternoon, but isolated storms could continue to pop up before fully clearing out late overnight.
If you have outdoor plans this weekend, Sunday is your day to do them. Highs will be slightly cooler in the 60s for everyone, but abundant sunshine will return and it will be the start of a number of days that finally see dry, sunny weather heading into next week.