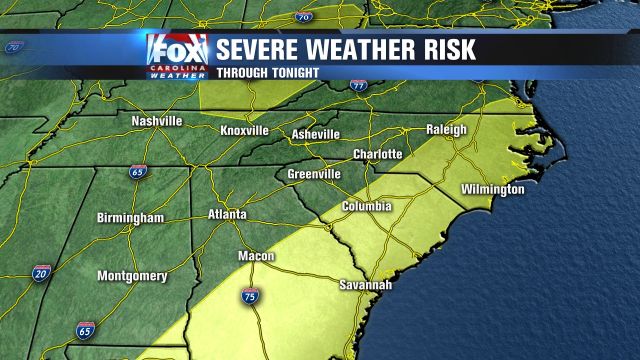 Yellow areas indicate a higher chance for severe storms
Today has been rainy and cold, and that will help to limit our threat for severe weather later this evening and tonight.
Much of our area has seen 2-3" of rainfall, and clouds have held tight. This, along with the a breeze out of the east, has kept temperatures in the 40s and 50s all day long. It's something called a cool air wedge, and that wedge hasn't broken through the day. It is expected to break tonight, and that would allow temperatures to warm slightly. When this happens, a few storms may develop as the cold front pushes through. I don't expect much severe weather, and the Storm Prediction Center agrees! They have shifted the severe threat farther southeast, where the better instability lies.
With that said, a few storms will still be possible. Damaging wind would be the primary threat. This would be between about 6pm and midnight. We should clear overnight, but some showers will linger in the mountains for Tuesday morning.
If you got some flooding or ponding in your back yard or at your workplace, send me a pic of it! You may see your snapshot on the 10pm news tonight!