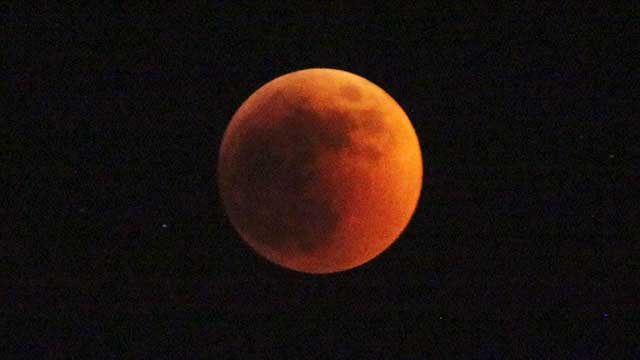 Blood Moon pic from A.P. in Africa
GREENVILLE, SC (FOX Carolina) -
There will be an exciting view in the sky tonight, but I doubt we'll see much of it here. A total lunar eclipse is on tap, starting at 12:53 tonight going through around 6am. Rain and clouds will keep us from seeing the "blood moon" phenomenon. The moon will look darkish red because of light refracting along the edges of earth from the sun. It's a bummer that our weather will prevent us from seeing this amazing sight!
Showers and storms will remain in the forecast through tonight and tomorrow as a cold front approaches. We could even see a few strong storms as the front arrives during the morning, but the best chance for damaging wind and hail will be to our east. The morning commute will likely be soggy, and heavy down pours will be possible, so be sure to give yourself plenty of time to get to work and school. We could see up to 2 inches of rain between Monday and late Tuesday!

By Tuesday afternoon we should start to slowly clear and the winds will pick up! We could see gusts to 35 mph in the Upstate and 50 in the mountains late Tuesday. The northwest wind will pull in colder air, and even sparks a few rain and SNOW showers in the higher elevations late Tuesday! Any snow that falls wouldn't last long or accumulate, but flakes will still be flying for a while! The cold air really settles in for Tuesday night. Overnight lows will drop into the low 30s for the Upstate and upper 20s in the mountains. You'll want to protect your sensitive plants and make sure your pets have a warm place to sleep!
Copyright 2014 FOX Carolina (Meredith Corporation). All rights reserved.