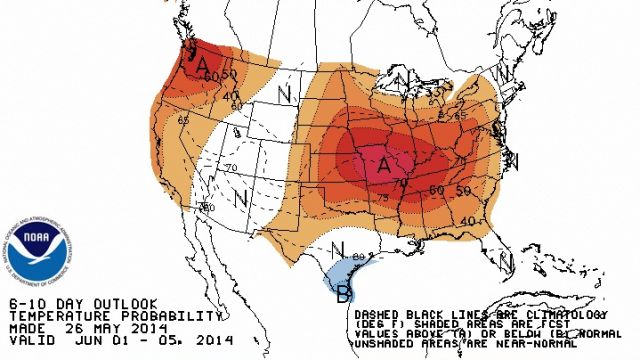 GREENVILLE, SC (FOX Carolina) -
The 6-10 day temperature outlook put out by the Climate Prediction Center has northeast Georgia and the western Carolinas in a likely area to see above normal temperatures. Based on the pattern we have been seeing for the past two days, we may likely verify that forecast.
Despite the rain chances plaguing much of our next seven days, we can still see significant heating early in the day, which will help to spark the isolated thunderstorms we are expecting.
Around the end of May we often see afternoon highs peak in the lower to mid-80s across the upstate and upper 70s in western North Carolina. Though temperatures won't get significantly higher than that, we will still get a degree or two above normal before rain quickly brings temperatures down during the afternoon.
Look to see Tuesday warm up well into the 80s across our entire region under partly cloudy skies. Wednesday will see some areas flirt with 90 degrees before highs get closer to normal by the end of the Week.
Once again, afternoon rain showers will quickly bring temperature back to more comfortable threshold.