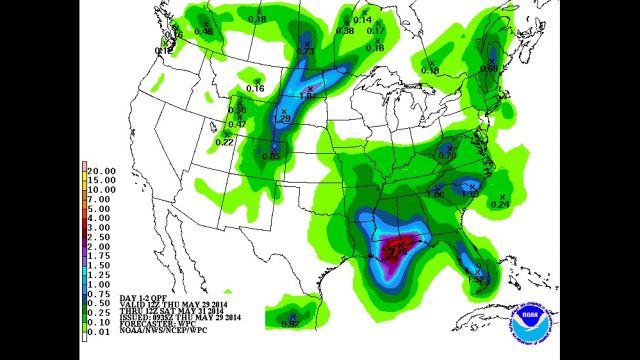 Clouds begin to increase this morning, but rain should hold off in the Upstate and NE Georgia until after lunchtime. Western NC towns could see showers develop around noon. As the day heats into the 80s across the board, thunderstorms could start to develop and last on & off into part of the overnight. The cold front will slowly pass our region from north to south, and that could cause some flooding concerns as the individual storms likely won't blow through as quickly as usual. While widespread severe weather is not expected, frequent lightning, downpours, strong wind and small hail are all possibilities. Isolated showers could linger into the overnight.
Showers and storm chances on Friday have been "upped" to around 60% as the cold front lingers just to our south. Between Thursday's and Friday's storms, 1/2-1" of rainfall is expected across the Upstate, mountains, and NE Georgia.
Partly cloudy skies return for Saturday with a 20% chance of a lingering shower, with sunny skies on Sunday.