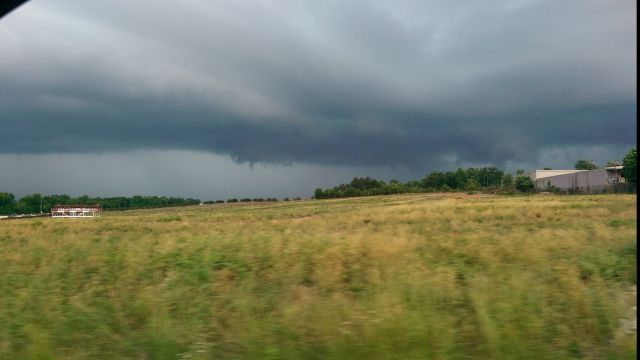 Stormy view in Greenville, from Sarah Eskew
We shouldn't see the coverage of storms on Saturday like we saw on Thursday and Friday, but a few will likely pop up Saturday afternoon. The best chance for some rain will be in northeast GA along with the western sections of the Upstate. It's all as a front finally pushes on through our area. I'm thinking that some drier air will work in for the mountains and eastern Upstate, keeping rain chances minimal. Therefore, Gaffney and Spartanburg will have about a 20% chance of rain, while Clemson and Greenwood will stand about a 30-40% chance.
Sunday looks dry and cooler, as we see winds switch out of the east and northeast. I'm going with Sunday as my pick day of the weekend to be outside!
Looking ahead, we are watching for a possible tropical system to enter the Gulf of Mexico late next week into the weekend. It would be called "Arthur" if it develops. I mentioned this a couple of days ago, and it still looks promising. This would be VERY early compared to the average first storm date of July 9, but it's still in hurricane season.
I'd say Florida is at greatest risk right now from what little I've seen, but we'll have to watch model trends over the next few days. If a storm develops, we'll stand a chance of some soaking rain depending on the exact path. We'll be watching!