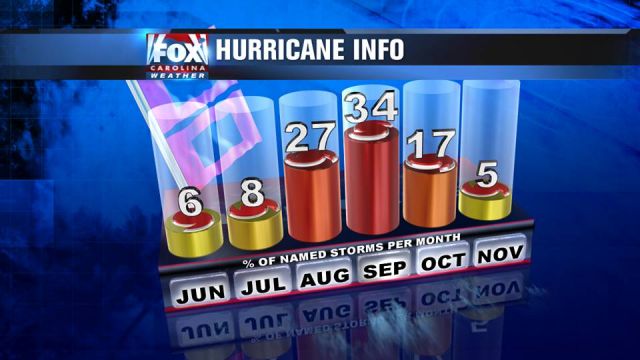 September sees the most hurricanes on average each year
June 1 marks the beginning of Hurricane Season, but it doesn't usually get active until late July into August. On average, around July 19 is when we see our first named system. I've been watching a system on our computer models, and I think there's a chance for a tropical depression in the southern Gulf of Mexico next weekend. The GFS model has backed off the solution that would have brought a possible tropical storm into the southeast.
The first named storm will be "Arthur", then "Bertha" after that. This season is expected to be average or possibly a bit less active than average. This is because of El Nino. The El Nino pattern produces winds in the upper levels that shear apart developing tropical systems. This creates an unfavorable environment at times for tropical development.
We may not see tropical rains in the near future, but we'll have a chance of storms this week. Tuesday and Friday look like the stormiest days. Monday should be dry and comfortable, then the heat and humidity crank back up mid-week.