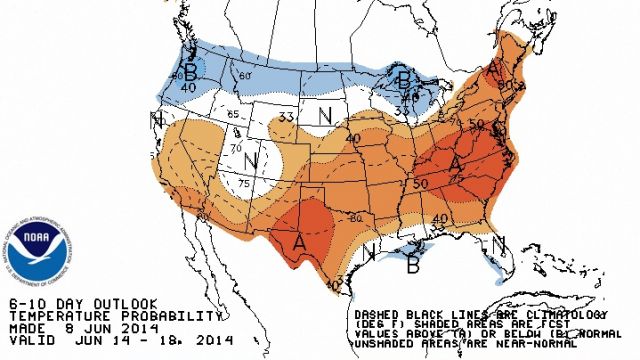 GREENVILLE, SC (FOX Carolina) -
Temperatures for this time of year normally linger in the mid to upper 80s. So far for the month of June we have seen afternoon highs reach the upper 80s and even lower 90s for much of the western Carolinas.
The Climate prediction centers six to 10 day outlook has the southeast once again in an area likely to see above normal temperatures for the extended forecast. We have already seen above average temperatures this past week and will see temperatures reach 90 once again by mid-week.
This statement can be misleading however. Though temperatures are likely to be above normal for the extended forecast, I don't anticipate highs to be much more than a few degrees above normal.
Next weekend is forecasted to peak in the upper 80s across the upstate and lower 80s in western North Carolina. Those temperatures are spot on for normal highs in the second week of June. Afternoon rain showers can also aid in cooling temperatures before they get too hot.
In the end, although temperatures will be seasonably warmer than usual, we won't be talking about unbearably hot weather quite yet. For now, it is a pleasant early arrival of summer.