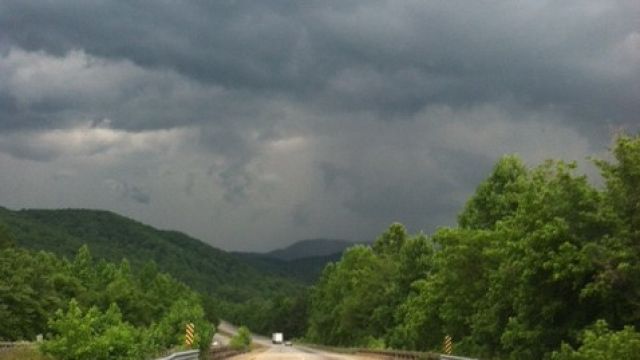 From Candace during storms last week
We're all getting used to those pop-up storms during the afternoons. They usually aren't widespread, about 20-30% of our area will see rain on any given afternoon. Tuesday, on the other hand, will be a bit different.
We are seeing a big influx of moisture from a southerly flow. This will prime our atmosphere to produce plentiful rainfall whenever storms develop. A shortwave (small upper level disturbance in the jet stream) will ride across our area on Tuesday, and that will act as the trigger for storms to develop. The good news is that our atmosphere shouldn't get too unstable, since clouds will be in place a good chunk of the day. The main threats on Tuesday will be heavy downpours, lightning and perhaps a few strong wind gusts. Some localized flooding will be possible under heavier, long-lived storms. We'll have a rain threat all day long, but best chance will come after 4pm. I'm going with a 70% chance of rain, as opposed to the typical 20-30% in the summertime.
Wednesday through Sunday look to return to our normal summer tendencies. I expect highs near 90 in the Upstate with pop-up, scattered storms each afternoon. Rain chance will be about 30% each day.