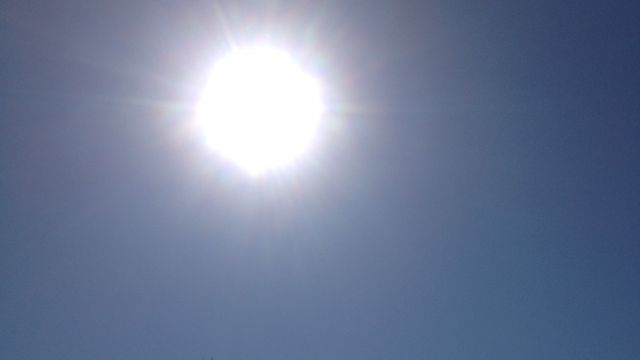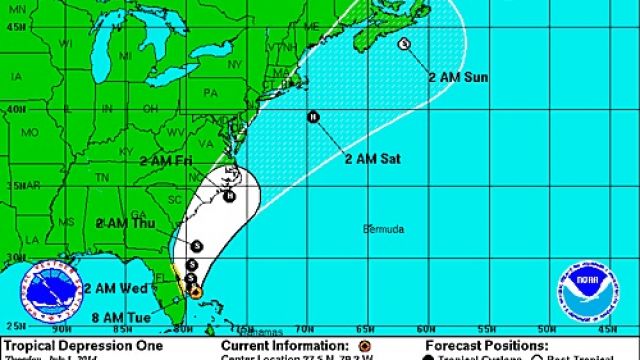 image courtesy http://www.nhc.noaa.gov/?atlc
It's a perfect start to July! Skies clear throughout the morning leaving mostly sunny skies today, with highs in the upper 80s to mid-90s. Expect a light breeze from the south-southwest. There's a 20% chance for a pop up late day shower in the mountains, though most of our area will stay entirely dry. Tonight, partly cloudy skies move in with lows in the 60s and low 70s. Wednesday brings partly cloudy skies with highs in the low to mid-90s across our area, but with the humidity, the heat index will likely feel like it's in the low 100s! A few pop-up storms are possible late Wednesday. Thursday again brings hot temperatures in the 80s and low 90s with a few thunderstorms, but the 4th of July on Friday is back to full sunshine with highs in the 80s and low 90s. Friday night fireworks weather looks great as of now, temps in the low 80s around sundown with clear skies. The weekend will be back in the 80s across our area, with just a few clouds and a chance for pop-up showers/storms each day.
TROPICS UPDATE:
The National Hurricane Center has issued advisories for the Florida coastline for a Tropical Storm, as the first storm of the season is currently developing. As of 9:30am Tuesday, the storm is still listed as a Tropical Depression, sitting stationary off the Florida coast. It is expected to make a sharp northward turn later today, and as it does so it's expected to gain enough strength to qualify as the first named storm of the season, to-be Tropical Storm Arthur. By Thursday, the storm system could move far enough north in the Atlantic to be parallel with the SC coastline, and has potential to be at hurricane strength by then. Landfall is expected somewhere along the NC coastline on Friday, but since the forecast track is still uncertain, that could change. Stay tuned for updates!