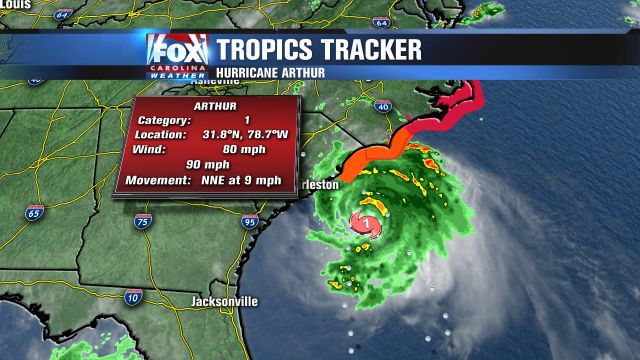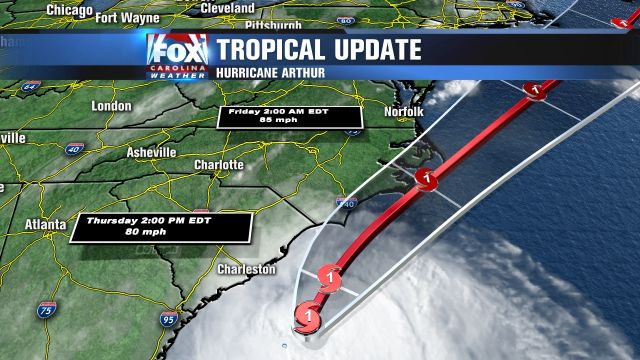 Tropical Storm Arthur is now Hurricane Arthur, sitting at a category 1 with sustained winds of 80mph. The storm is currently moving NNE at 9mph, slowly up the South Carolina coastline. There are Tropical Storm Warnings in effect for the northern half of the SC coast, with rip tides, wind up to 40mph, and bands of heavy rain and downpours pushing through the region throughout the day.
The storm itself is expected to move to the NC coastline at hurricane strength on Friday, and could make landfall (or come very close) to the Outer Banks. Hurricane Warnings are posted for much of the NC coastline, with evacuations taking place today in advance of the storm.
If you're heading to the beach for the holiday weekend, Friday, Saturday, and Sunday along the SC coast should be mostly sunny with a 30% chance for pop up afternoon storms. Arthur will have moved far enough north to no longer create issues with the weather. However, rip currents and strong tides will continue to be a concern for a few days, so take caution while swimming and pay close attention to posted signs for warnings.
Locally - Arthur is not expected to have any major effect on the Upstate or Western NC. Our weather for today features partly cloudy skies with a 30% chance for pop up storms. Friday, Saturday, and Sunday will be sunny in the 80s, with our next chance for pop up storms moving in late Sunday.