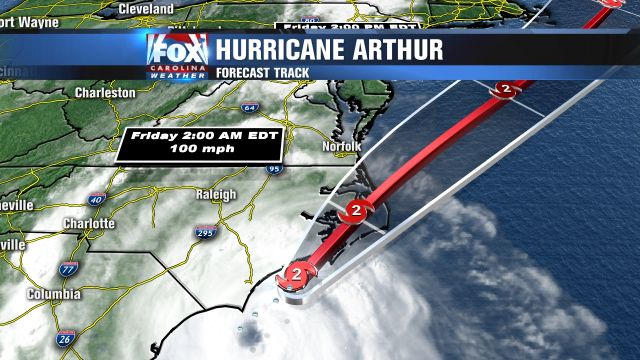 Arthur's track
Hurricane Arthur is poised to make landfall near the Outer Banks late tonight into Friday morning. It has increased to a Category 2 hurricane, packing 100+ mph winds sustained. 5-7 Foot storm surge will be possible, along with the high winds threat. There is also a tornado threat through 2am along the NC coastline.

Along the South Carolina coast, winds have gusted to 40 mph, and showers have been off and on through the day. Conditions will improve overnight, but dangerous rip currents and high surf will last into the early part of Friday.
By late Friday, the entire Carolina coast should be clear, and the rest of the holiday weekend should be really nice!
A cold front is moving through for us, and that is helping to steer Arthur along the eastern seaboard, along with bringing us storm strong storms. By Thursday night and Friday we should be clear, and overnight lows will cool nicely as drier air works in from the northwest.