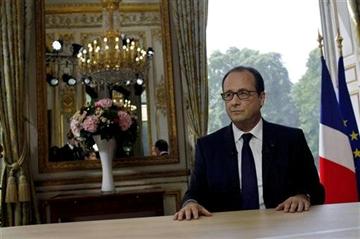 (AP Photo/Thibault Camus, Pool). France's President Francois Hollande after the traditional interview following the bastille day parade, at the Elysee Palace, in Paris, Monday, July 14, 2014.
PARIS (AP) - French President Francois Hollande says he has no information to share about his private life, amid speculation that he could soon formalize his supposed relationship with a French actress.
Hollande broke up in January with his partner Valerie Trierweiler amid reports he was having an affair with actress Julie Gayet, which he has never denied.
A recent book by French journalist Yves Azeroual suggested Hollande's relationship with Gayet could become official this summer.
For the first time since the book was released, Hollande was asked Monday whether he would remain without a first lady until the end of his term.
"Private life must stay private life," he said. "When I have information to share, I will. But I don't have any."
Hollande, who has four children, has never been married.
Copyright 2014 The Associated Press. All rights reserved. This material may not be published, broadcast, rewritten or redistributed.