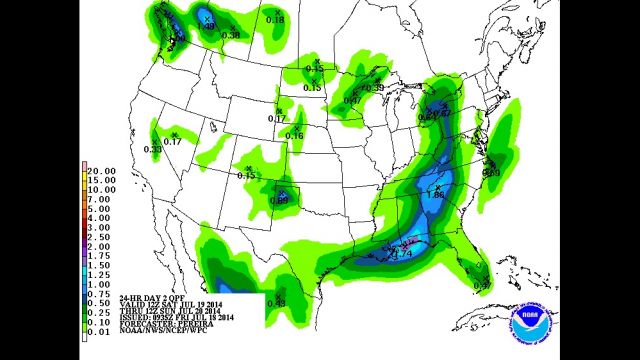 Total rainfall potential by midday Saturday
Ahead of a warm front that is expected to move into our region late this weekend, expect to see increasing clouds. A few morning showers are possible today, with a greater possibility of afternoon rain and storms. Highs today reach thelow-80s Upstate and mid-70s in the mountains. Tonight, on & offshowers and storms continue.
Saturdayand Sunday bring highs in the low 80s Upstate, and mid-70s in the mountainswith scattered showers and thunderstorms both days. The main threat with storms will be lightningand downpours, with the possibility of up to 2" of rain in some areas by late Sunday.
By Monday, highs againreach the low to mid-80s area-wide, with a few lingering showers andthunderstorms. Tuesday should be warmerin the upper 80s with an isolated thunderstorm. Late next weeks looks to feature highs near 90 Upstate and in themid-80s in the mountains, with a mix of sun and clouds and a chance for a lateday storm.