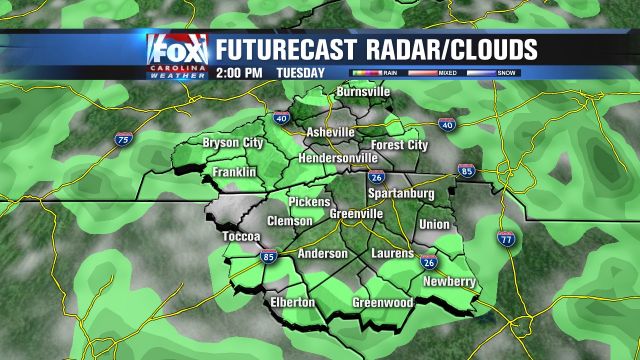 More scattered showers for Tuesday
Today may have had you saying "Seriously?!" as the heavy rain fell and fell in many spots. This is on top of what we saw over the weekend, which adds up to 3+ inches of rain total. Just today, we saw over 2 inches of rain in Greenville, Spartanburg, Cherokee and Union counties.
This rainy pattern has helped our abnormally dry status tremendously. We have gone from a deficit to about even for the year, and now we have a surplus for the month of July. Here's a look at some numbers (courtesy of NWS Greer):
For GSP:
3.74" for the month, so now we are 0.58" above normal for July
Last July's total was 13.57". Wettest on record.

26.37" for 2014, which is below normal by just 0.02" (so pretty much even!)
For Asheville:
3.45" for the month, so now we are 0.52" ahead for July
Last July was 10.91" total.
25.35" for the year so far, which is 0.48" below normal. This deficit will likely be eliminated later this week!
Showers and t-storms will be scattered about tonight and tomorrow, then we'll see rain chances go down late in the week. Main threat with any storms will be heavy rain and quick flooding (since the ground can't take much more moisture).