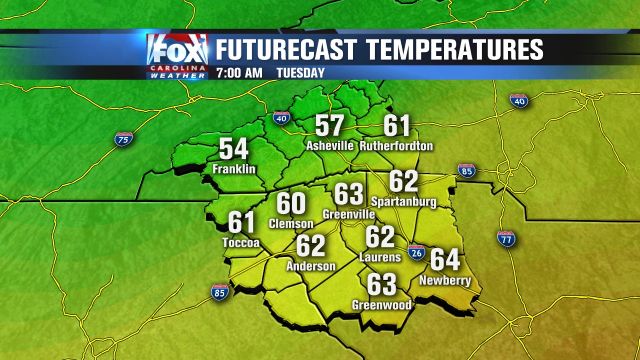 Tuesday morning temps!
GREENVILLE, SC (FOX Carolina) -
A strong cold front has passed through today, and you probably felt the gusty winds behind the front this afternoon. The cold front brought multiple tornado warnings through Tennessee, as well as 1 tornado warning in Avery County, NC last night. Luckily the storms moved into a less favorable environment for tornadoes as they pushed into the mountains. We still saw some wicked storms with winds gusts at 60+ mph and hail across western NC.
The better side of this front will be the cooler and drier air we feel tonight and tomorrow. Overnight lows will drop to the low 60s in the Upstate and mid 50s in the mountains. Tuesday will bring some beautiful blue sky (the kind we often see in the fall!) and highs about 6-8 degrees cooler than normal. Seriously... this is going to be some NICE weather for Tuesday AND Wednesday. I hope you can take advantage and get outside for a bit each day!

An easterly flow takes over by late Thursday, and that will put a stop on our blue sky and low humidity. Rain chances will creep up Thursday night and through the weekend.
Copyright 2014 FOX Carolina (Meredith Corporation). All rights reserved.