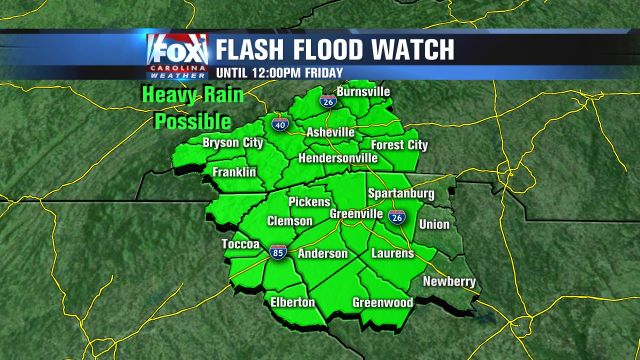 Flooding will be possible through midday Friday
Over 3 inches of rain fell in Greenville County earlier today, and we could get more tonight. the ground is saturated with moisture, particularly in Greenville and Anderson counties, so any rain that falls this evening and tonight could cause some flooding issues. That's why a Flash Flood Watch has been issued. Here's what I'm thinking for the next 48 hours... Based on the latest run of the GFS, Euro, RPM and NAM computer models...

Tonight: Heavy rain will push in from the south. Overnight showers and embedded thunderstorms will ongoing late tonight into the morning hours on Friday. 1-2 inches of rain will be possible.
Friday Morning: Rain should slowly lighten up through the morning, with some of the heavier downpours shifting east and north.
Friday Afternoon: Lingering showers, but a slow drying trend. Friday evening should be mostly dry with just a few lingering showers.
Saturday and Sunday: The heavy rain threat will continue Saturday, with the best chance being late day as it looks now. Sunday the rain becomes more isolated in nature, so expect more of a pop-up t-storm kind of scenario for Sunday afternoon.
BOTTOM LINE: Our rain threat will continue for the next 3 days. Because of this, stay on the alert for flooding in your area. If you see water on the road, approach with caution. If you can't tell how deep it is, turn around and find another route!
We'll continue to bring you updates!