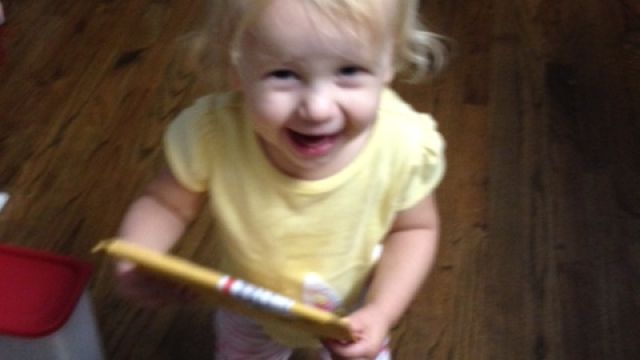 I never understood the scope of teething pain until this past weekend. I'd hear moms talk about how upset their babies would get, and I wouldn't quite understand. Stella's front teeth came in with little fanfare, so I figured we must have avoided the agony and seeming right of passage. I was wrong.
Saturday started like any other day. Stella woke up around 6:45, and was a little fussy. I gave her a sippy cup of milk and drank my coffee. She didn't quite seem like herself, but the milk did help. Through the morning we would play, walk around, and she would inevitably fall down from time to time. Each time she fell she just screamed in frustration. Normally she just gets right back up, and usually has a smile on her face.

I took her temp and it was normal, so we kept going about our day. She was drooling a lot and started gnawing on her fingers around lunch, so I figured that teething must be responsible for her irritability. That irritability turned to outright screaming and flailing by early afternoon. We went through about an hour of her screaming and crying, grabbing her mouth and rolling around on the floor. I would try to hold her and comfort her, but she just arched her back and wanted out of my arms. I was completely terrified. My husband and I gave her Advil, and promptly went online to see what else to do! She wouldn't chew on anything cold, and we didn't have any of that teething gel (I'm not quite sure about that stuff yet). I eventually held her down and started massaging her gums with her little toothbrush. She hated it at first, then it seemed to help over a few mins. Finally she calmed down and then was back to normal the rest of the day.
My question to all of you moms... how many episodes like this have you gone through? Did your little ones get a little fussy or literally lose their minds like Stella? Any tips on keeping it from getting as bad as it did!?

The picture with this post was taken about 2 hours after the worst of her teething. She recovered nicely and was SO sweet the rest of the day.
Thanks, as always, for checking out my New Mom Blog!