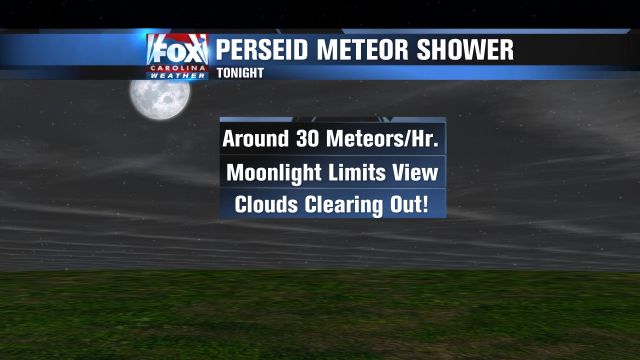 Showers and t-storms will be heading out tonight to make way for cooler and drier air. Expect rain through about 9pm in our southern spots, then clouds will break up. This will lead to some decent viewing conditions for the Perseid Meteor Shower. It won't be the perfect view, since the moon will still be fairly bright in the sky.
Our Supermoon was Sunday night, and Tuesday night's moon will be around 90% of full. This will light up portions of the sky and make it harder to see meteors. However, I do think you'll see between 20 and 30 shooting stars/meteors per hour around 2-3am. If you are a night owl, it might be worth checking out!
The Perseid Meteor Shower occurs because the earth is passing through the debris of disintegrating comets in its rotation around the sun. The meteors appear to have tails because of the melting of ice particles as the debris gets heated.
The weather will be gorgeous from Wednesday to Saturday with sunny skies and highs in the 80s for the Upstate, 70s to low 80s in the mountains. Spotty showers and storms are back by Sunday into Monday.