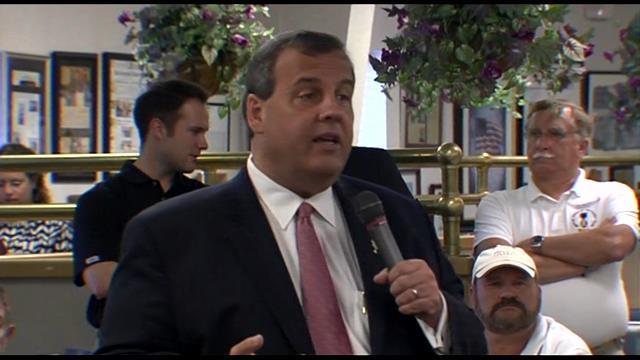 Gov. Christie speaks at Tommy's Ham House. (June 3, 2015/FOX Carolina)
WHNS (FOX Carolina) -
New Jersey Gov. Chris Christie announced on June 30, 2015 that he was seeking the Republican nomination in the 2016 presidential race, becoming the 14th Republican in the race for the White House.
Christie was elected to serve as governor of New Jersey in 2009. Before that, he served as the U.S. Attorney for the northeastern state from 2002 to 2008.
Christie's tenure as governor has been plagued by the recession, which the state has been slow to recover from; Hurricane Sandy; and the "Bridgegate" scandal, an alleged 2013 scheme to close down the George Washington Bridge in Fort Lee, NJ, in retaliation for the mayor's refusal to support Christie's gubernatorial campaign. Christie denied any involvement but one of his staffers pleaded guilty in the conspiracy and two other staff members were indicted.
Read more about Christie and where he stands on the issues here.
Get information about campaign stops and other campaign news at www.chrischristie.com
PREVIOUSLY: Chris Christie becomes 14th candidate in Republican presidential field

Copyright 2015 FOX Carolina (Meredith Corporation). All rights reserved.