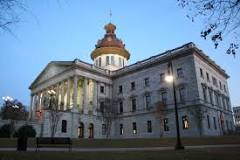 SC Statehouse (FILE)
COLUMBIA, SC (AP) -
South Carolina's business leaders are gathering to unveil the top issues they'd like to see discussed in the upcoming legislative session.
South Carolina Chamber President Ted Pitts and Board Chairman John Uprichard are holding a news conference Wednesday at the Statehouse. Organizers say they and other leaders from the state's business community will be delivering the Chamber's 2016 Competitiveness Agenda to state legislators, who reconvene next week.
Organizers say Pitts and Uprichard will be joined by former Chamber chairman Mikee Johnson, Grace Outdoor owner Hal Stevenson and Al Reid, operations leader for Boral Stone Products.
Copyright 2016 The Associated Press. All rights reserved. This material may not be published, broadcast, rewritten or redistributed.