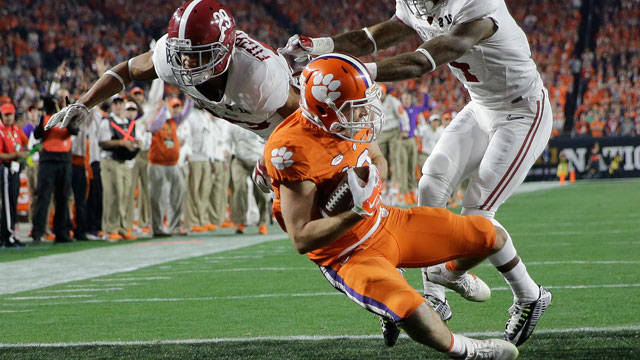 Hunter Renfrow catches his second touchdown (Source: AP)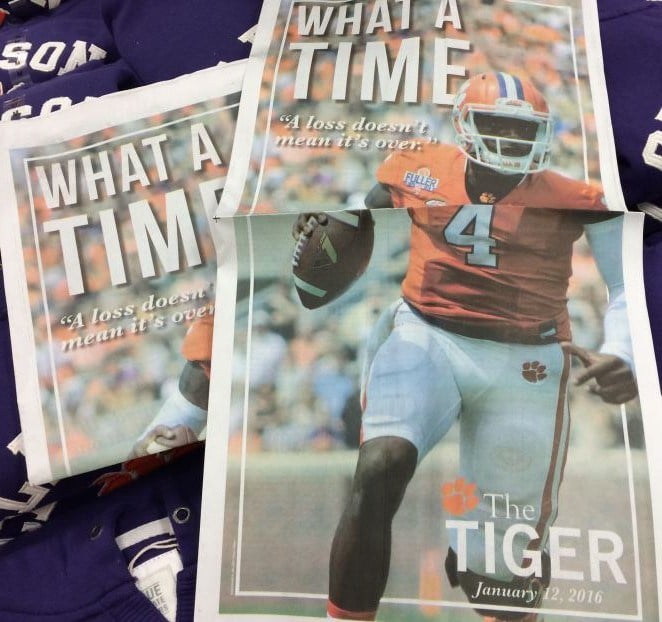 Cover of 'The Tiger' newspaper on Jan. 12, 2016 (FOX Carolina)
CLEMSON, SC (FOX Carolina) -
Clemson fans who watched the national championship game at a watch party on the Clemson University campus said it was a tough loss but they are remaining positive and optimistic about the 2016 season.
Clemson fell to Alabama 45-40 in a battle that went down to the final seconds at University of Phoenix Stadium in Arizona.
The Tigers were aiming for their second national championship win and becoming the first team to earn a 15-0 season.
Fans said the game was an incredible one to watch and kept them on the edge of their seats. They said a 14-1 record and an impressive showing in the national championship game was nothing to be discouraged about.
Ryan Scott, a graduate student at Clemson said he expects the Tigers to be back in the championship game next year.
"I think they're going to be right back where they were," Scott said. "They're going to keep going and with the way Dabo's attitude is, one of the most positive people I've ever seen- they're going to go back."
Both head Coach Dabo Swinney and quarterback Deshaun Watson said in their post-game remarks that the team already had their sights on the next national championship game.
Clemson University officials said the team is due to return Tuesday night. The team is expected to arrive back at the stadium at 8:20 p.m.
READ MORE: Alabama seizes fourth National Championship in 7 years after win over Clemson
Copyright 2016 FOX Carolina (Meredith Corporation). All rights reserved.