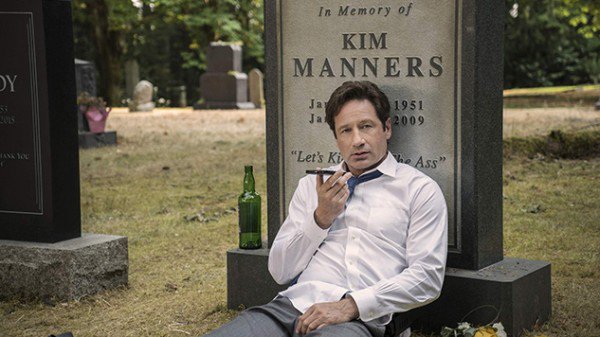 I thoroughly enjoyed the third episode of the X-Files revival mini-series called "Mulder and Scully Meet The Were-Monster"! It reminded me so much of some of the great stand-alone episodes like Bad Blood from season 6. A lot of folks on social media are calling it the episode where Mulder gets his groove back, and I fully agree with that!
After two very serious episodes to start the mini-series, this was a nice departure! Not only was it a great monster story, but it brought out the best in Mulder and Scully. SPOILERS next so stop reading if you haven't seen it!
My favorite part of the entire episode was the scene where Mulder is explaining his theory about the horned lizard to Scully in her hotel room. He goes on and on, anticipating Scully's skepticism and proving his points over and over again. He shows an enthusiasm we didn't see in the first two episodes, and it was Mulder's excitement and quest for the supernatural that made so many of us love the show! Scully's response to Mulder after his long diatribe was "you're bat-crap crazy"! I about died laughing!
Scully had some great moments, and one of those was certainly the scene in the animal control office. I loved when she referenced Queequeg! The little dog she got in the episode "Clyde Bruckman's Final Repose", then lost to the sea monster in "Quagmire".
I also loved "Guy". I think the writer and director Darin Morgan was brilliant to show us a wild creature who transformed into a human! Some of Guy's comments about immediately feeling stressed about his 401K and other things that humans obsess over were on point! He couldn't deal with the self-awareness and stress that came along with being a human! Very well written and was an episode that really made you think, while you were laughing hysterically.
I haven't graded episodes so far, but I'll have to start with this one (hopefully there will be many seasons to come and my grades can become a "thing"). I'll give this episode an A-. A+ would be reserved for such greats as Clyde Bruckman's Final Repose, Bad Blood and One Breath. Hopefully we'll see 2 more outstanding episodes before it goes bye bye for the season at least.
Thanks for reading my X-Files ramblings, and email me your thoughts! Kendra.kent@foxcarolina.com