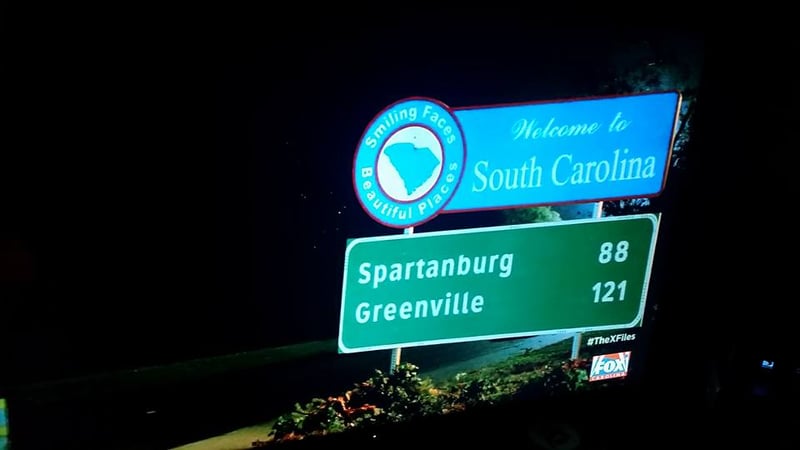 GREENVILLE, SC (FOX Carolina) -
WOW, that was quite an end to the 6 part X-Files series. Frankly, I'll be pretty upset if they don't make more of them after that ending. SPOILERS AHEAD…
First off, how cool was it that Mulder's phone was pinged to Spartanburg! And we saw the Greenville/Spartanburg mileage sign as Mulder was driving to find Cigarette Smoking Man (CSM). I guess he has been hiding out in Spartanburg the whole time? That's just a crazy coincidence and I know a lot of you were posting about it on social media last night!
As for the storyline, it was good, but I felt like it went a little slow at times. Especially all the long conversations Scully has with Agent Einstein and Monica Reyes. The scene where Scully was trying to get to Mulder seemed to be about a minute too long as well.
The premise was really interesting, and the idea that Scully was one of the "chosen ones" back when she was abducted is mind-blowing. I guess that's why she was considered immortal by Clyde Bruckman! You may recall that she asked him how she was going to die in season 3 and he simply said "you don't".
Anyway, Mulder's encounter with CSM was great… It had all the intensity I figured it would, and Mulder stood his ground and didn't accept help from him. Hopefully Scully will be able to help Mulder through the stem cells of their kid (yeah, another thing that makes me think more episodes are coming).
So, they better hurry up and make another 6 episode series or movie! I can't wait another 8 years for more X-Files. I hope you enjoyed the shows as much as I did.