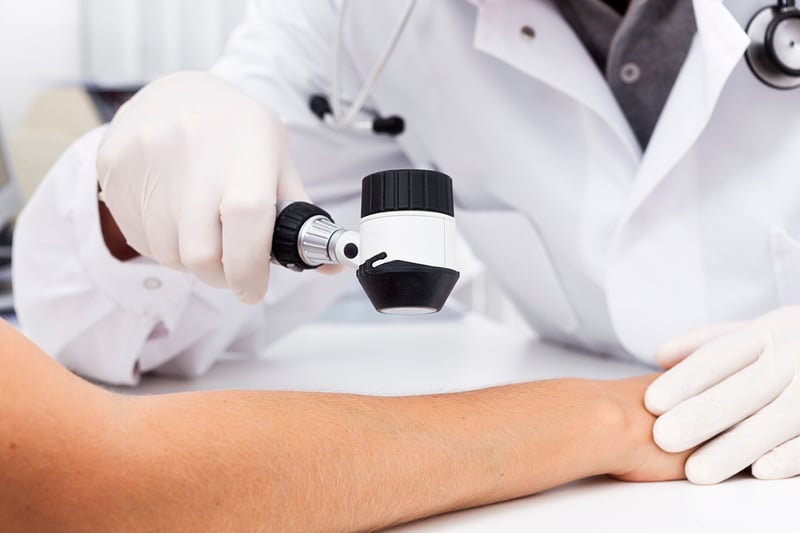 (Courtesy: SRHS)
Mammograms, yearly physicals and colonoscopies are just a few preventive health screenings are appointments we know we all need to make.
But is a skin cancer screening on your list? If you have a suspicious looking mole or have been badly sunburned in your lifetime, you need to make a full-body skin exam with your primary care physician.
Some of us get nervous when we have to go to the doctor, especially when we don't know what to expect. While all physicians have their own way of performing exams, here is what to anticipate during your skin exam:
Expect the skin exam to take at least 15 to 20 minutes.
Since this is a full, head-to-toe body exam, you fully undress—including your socks—but will wear a gown. Skin cancer can perform anywhere on the body.
Wear hair loose so your doctor can access your scalp.
The doctor may use a special magnifying glass with a light to examine lesions, moles or marks.
You will be asked about family history of skin cancer, which would increase developing skin cancer.
The doctor will want to know if you use tanning beds or tan outdoors.
You will be asked if you wear sunscreen or sun protection.
If anything is found to be unusual, the doctor will schedule to take a small tissue sample to examine if the skin is cancerous.
Not sure when or where to get a skin cancer screening? A free skin cancer screening will be held at Medical Group of the Carolinas—Family Medicine —Mountain Park on Tuesday, June 14, from 1 to 4 p.m. Register now to schedule your free screening. Register online at SpartanburgRegional.com/Events.