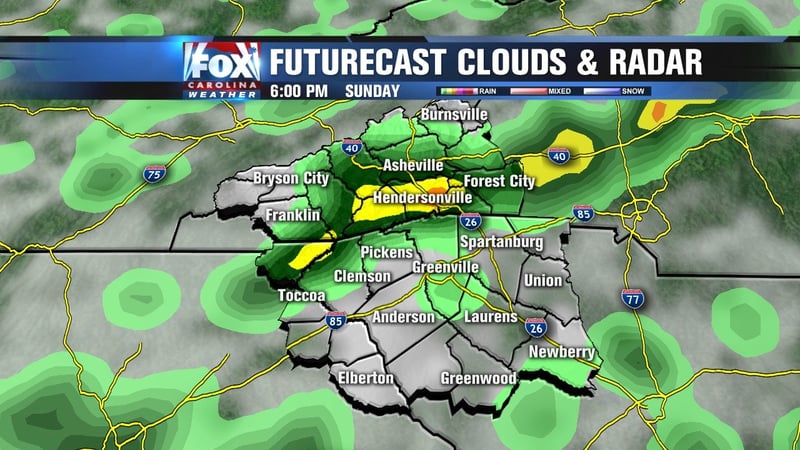 GREENVILLE, SC (FOX Carolina) -
Sunday will be off to a mild start with temperatures in the mid to upper 60s. Clouds will increase rapidly throughout the day as a cold front approaches the region.
Due to more cloud cover, temperatures will be slightly cooler, peaking in the low 80s across the Upstate and upper 70s in western North Carolina.
Winds will be breezy in the Upstate, flowing out of the southwest between 5 and 15 miles per hour. Wind gusts can reach as fast as 20 miles per hour as times throughout the day. Western North Carolina will likely see a southwest flow limited to 5 and 10 miles per hour.
Expect to see storms and scattered showers begin to fire up during the afternoon ahead of the approaching cold front. These storms will have the potential of producing damaging winds and large hail stones. Be sure to pay very close attention to the Radar before heading out.
The Storm Prediction Center has put the western Carolinas under a slight risk area of seeing Severe Weather. This simply means that the chance of seeing severe weather in the western Carolinas is slightly higher than normal. Again, the main threats from these storms will be damaging winds and large hail.
Storms and lingering showers will likely taper off throughout the evening on Sunday as temperatures fall into the mid-60s and upper 50s.
Sunshine returns on Monday as dry high pressure takes over. Look to see sunny and warm days last all week long with very stable conditions.
Copyright 2016 FOX Carolina (Meredith Corporation). All rights reserved.