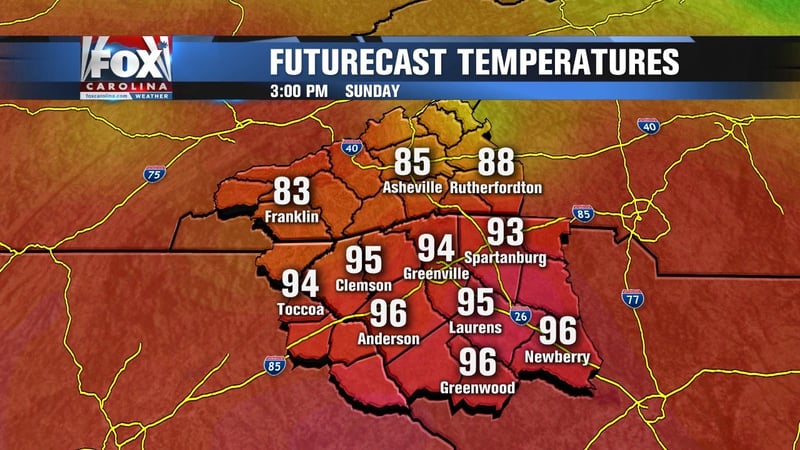 GREENVILLE, SC (FOX Carolina) -
Skies remain clear overnight with temperatures falling into the low 70s and mid-60s. Western North Carolina will likely see areas of patchy fog during the early morning hours.
Sunday will be mostly sunny to start with mild temperatures and light winds. Expect a mix of sun and clouds for the afternoon as highs climb into the mid-90s in the Upstate and upper 80s in the mountains.
Winds will mainly flow out of the north across the Upstate between five and ten miles per hour. Mountains will see more of a west northwest flow between three and eight miles per hour.
Keep an eye out for the development of isolated storms mainly during the peak heating hours of the day. Storms will likely develop after 2 p.m. and last into the evening. The best chance arriving between 7 pm. and 10 p.m.
Storms will likely be relatively short lives and will not linger all day. However, heavy downpours can be associated with some of these storms. Be sure to keep an eye on conditions especially if attending outdoor events.
Storms will diminish into the evening as temperatures fall into the low 70s and mid-60s once again. Look for Independence Day to bring a mid of sun and clouds as highs peak in the low 90s and mid to upper 80s. Afternoon storms will be likely for your holiday as well.
This summer like pattern will continue for much of the week as temperatures stay locked in the 90s.
Copyright 2016 FOX Carolina (Meredith Corporation). All rights reserved.