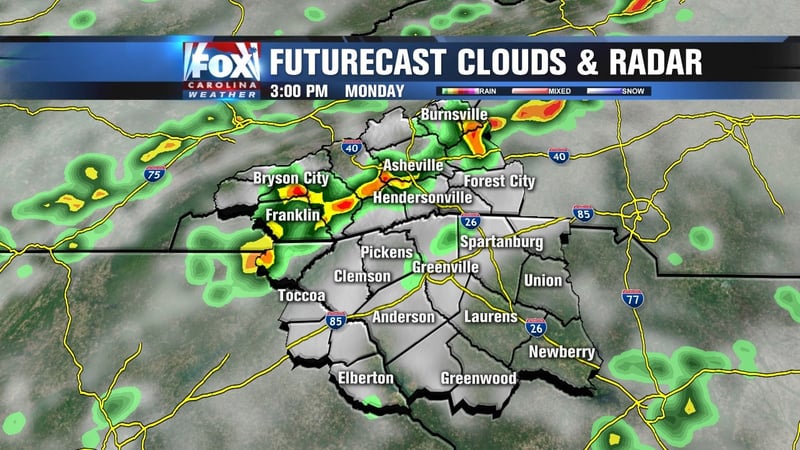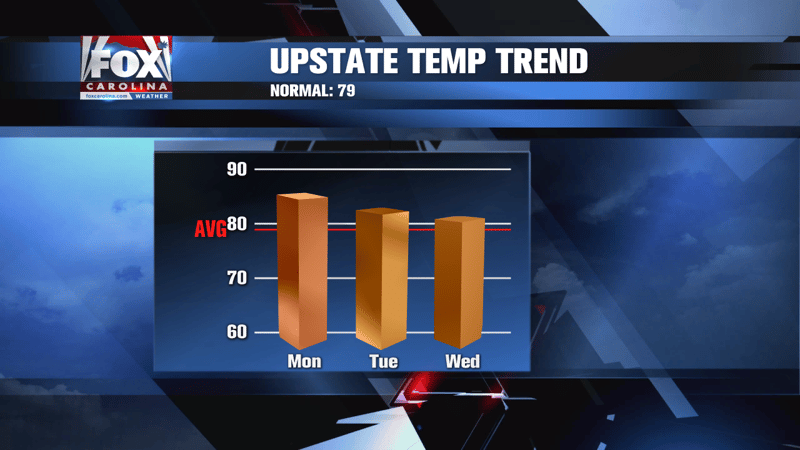 GREENVILLE, SC (FOX Carolina) -
Mostly cloudy skies with a few peeks of sun start the week, becoming more cloudy as the day progresses. Temperatures will make a run for the mid-80s across the Upstate, while mountain towns will likely peak near 80.
Winds will take on a southerly flow in the afternoon between three and eight miles per hour. The latter half of the day will see an increase in rain chances as a cold front dips into the Carolinas.
Scattered rain showers and isolated storms will develop late in the day and last into the evening hours. Upstate towns have a 30% chance of storms while mountain towns have closer to a 40% chance.
Rain totals will likely be limited to a tenth of an inch to a quarter (or possibly a half) of an inch, but locations that experience thunderstorms will likely measure higher amounts. Unfortunately, these early week rain chances will likely not put a huge dent in our more than 6 inch rain deficits
Monday night will dip into the low to mid 60s with wet weather possibly sticking around. Showers will linger for the first half of Tuesday as temperatures get set to reach the mid-70s and low 80s.
Clear skies will settle in for the rest of the week as temperatures sit slightly below normal, reaching the low to mid-70s on Friday afternoon.
Copyright 2016 FOX Carolina (Meredith Corporation). All rights reserved.