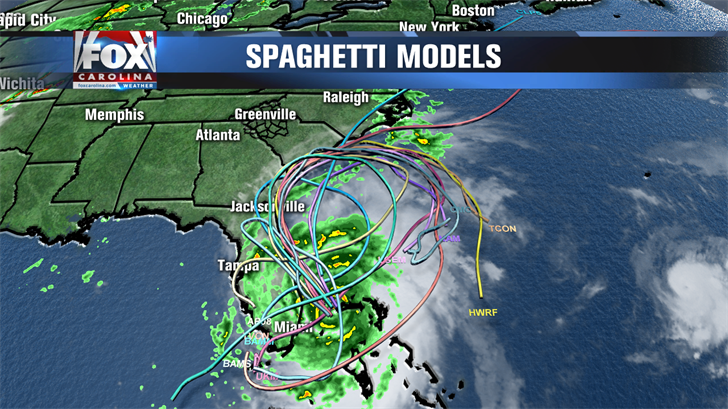 We show them a good bit while we are forecasting and tracking tropical systems... spaghetti plots! It gets the name spaghetti from the way it looks on screen! (see pic)
The National Hurricane Center uses these models to help determine the track and intensity of the storm. There are many kinds of models and the forecast different things. The most used and reliable spaghetti lines are the statistical dynamic and dynamic models. They are the most complex and take into account many factors including atmospheric conditions, past hurricane activity, current winds, etc. Those models include GFS, GFDL HWRF and the Euro that you hear about often when we get into the nitty gritty of forecasting.
These spaghetti models are useful to us because we can see trends, compare them easily, and convey forecast certainty or lack thereof! The National Hurricane Center uses them to determine the cone of uncertainty. We like to see them stacked on top of or next to each other, since that would mean a high likelihood of an accurate forecast.
The models aren't in complete agreement on Matthew, but the vast majority take it along the center track on the NHC forecast, just off the Florida, Georgia and Carolina coastlines.