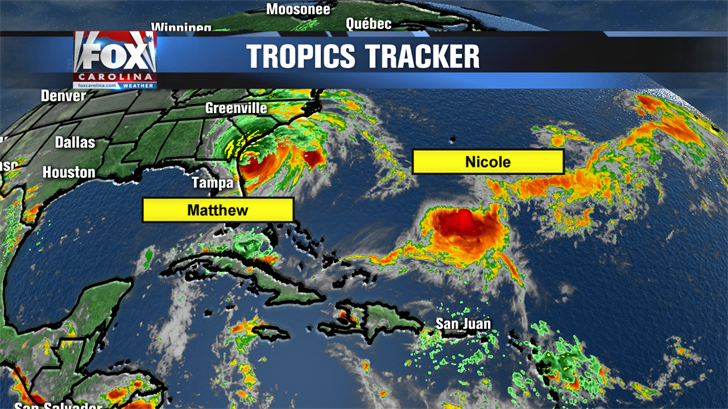 Many of you have been asking about Tropical Storm Nicole, and wondering if it could interact with Matthew or possibly make landfall on its own. The answer to both questions is most likely no. However the interaction can't be ruled out. Here's what could happen.
Since Matthew will be weakening to a tropical storm and ultimately a depression by early next week, it won't be large enough to "absorb" Nicole. However, since the storms may be of similar intensity, they could interact in the form of a "dance". called the Fujiwara effect. Basically the two storms could meet and pivot around the same, central point. This would eventually cause them to move away from each other in separate directions. That would be really interesting, but still doesn't look that likely.
Nicole is not expected to make it to the U.S., so no worries about another storm making landfall. But could Matthew loop around and make another landfall in the Bahamas or Florida, possibly... But it would be MUCH weaker, in the form of a depression or remnant low.
So, no Matt-icole SUPERSTORMS in the forecast!