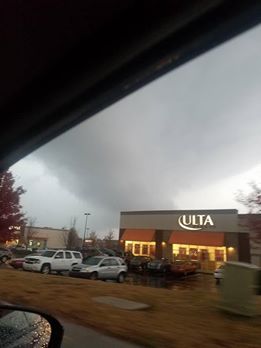 From Sheri Davis
GREENVILLE, SC (FOX Carolina) -
Sheri Davis snapped this pic what looks to be a funnel clouds near Anderson late afternoon on Wednesday. That same storm line moved into Simpsonville bringing major damage. There were three separate tornado reports out of Simpsonville, but we can't confirm that it was a tornado for sure until Wednesday.
The National Weather Service at GSP will be making the survey of the area on Wednesday to determine if the path of damage is consistent with a tornado. They look for a path of destruction, rather than fanned out damage. The latter would be more consistent with straight line or microburst winds.
We'll keep you posted on what we hear from NWS at GSP. Storms are done for now, and cooler air moves in tonight and Thursday.