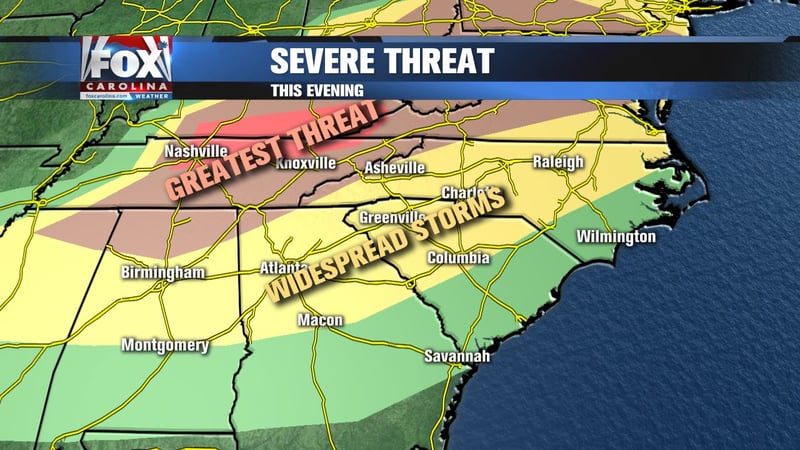 GREENVILLE, SC (FOX Carolina) -
A seasonably strong cold front will approach the western Carolinas later today and bring the risk of strong to severe storms to the region after 3 PM this afternoon. Ahead of this front, warm and moist air will be flowing in from the southwest in what will be a broad warm sector...slightly atypical for this area.
Typically speaking, the quality and quantity of moisture is a bit more uncertain heading into a storm event; this time, moisture will be quite impressive but, as usual, instability will be the question mark. That is, how much fuel will be available for incoming storms?
Shear will be quite impressive, both in the lower and upper levels. Ascending from the surface to the jet stream level, there is minimal turning of the wind but there is a marked strengthening in the magnitude of the wind speed - speed shear. This type of setup does not favor a high-end tornado threat; rather, it favors damaging wind gusts to be the primary concern with incoming storms. However, the deep layer shear vector will be crossing the approaching cold front at enough of an angle to likely induce some cellular component within linear segments of storms. In this regime, there is sufficient speed shear to induce some storm rotation...and it might be enough to produce a brief tornado.
All in all, the threat will begin in the mountains as early as 3 PM this afternoon as a line or broken lines of storms move in. Thereafter, the line of storms will develop eastward into the Upstate through the evening hours, likely ending by 10 PM. The main threat will be from wind gusts exceeding 50 mph and pockets of heavier rain. Stay weather aware today!
Copyright 2017 FOX Carolina (Meredith Corporation). All rights reserved.