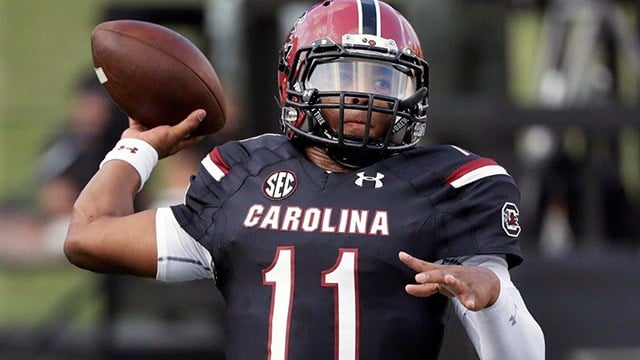 Brandon McIlwain (Source: Associated Press)
COLUMBIA, SC (FOX Carolina) -
Backup quarterback for the South Carolina Gamecocks Brandon McIlwain dropped a bombshell on social media Wednesday.
McIlwain said he is transferred from the program and asked his followers to respect his decision. He called it "one of the hardest decisions I've ever had to make."
He also plays outfield for the USC baseball team.
USC athletics confirmed the two-sport athlete intends to transfer at the end of the semester.
"Brandon came by today and spoke to me about transferring from the University of South Carolina," said head football coach Will Muschamp. "I support his decision and wish him all the best."
McIlwain played in eight games and started three times for the Gamecocks last season. He also made an appearance as a pinch runner during the first nine baseball games this spring.
"Brandon has all the skills to be a terrific baseball player," said head baseball coach Chad Holbrook. "I have no doubt as he devotes more time to the sport, he can do great things. We have enjoyed him immensely and we wish him well as his career moves forward."
Below is the statement McIlwain issued on Twitter:
Copyright 2017 FOX Carolina (Meredith Corporation). All rights reserved.