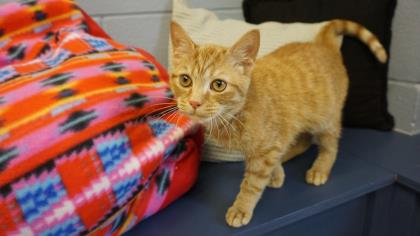 Four Fox's Four Legged Friends this week I chose Kyon! He's a playful kitty who would make any family's house a little more fun! Here's that Oconee Humane Society has to say about him:
Meet Kyon, our beautiful 7 month old kitten! Kyon possesses the sweet, docile disposition of most Orange Tabbies. He is most affectionate and enjoys interacting with people.

His foster mom told us that returning him to the shelter for adoption was one of the toughest things she has had to do. Kyon was a terrific play companion to her other young kitties. Even more amazing, he liked her cat-friendly dogs and they seemed to enjoy him. Foster mom says this kitten has it all. Don't miss out on this very special kitten!
If you are interested in adopting him, just head to Oconee Humane Society at 1925 Sandifer Blvd in Seneca!