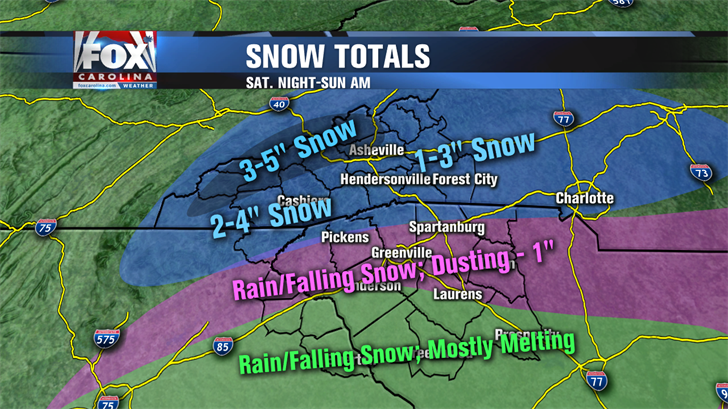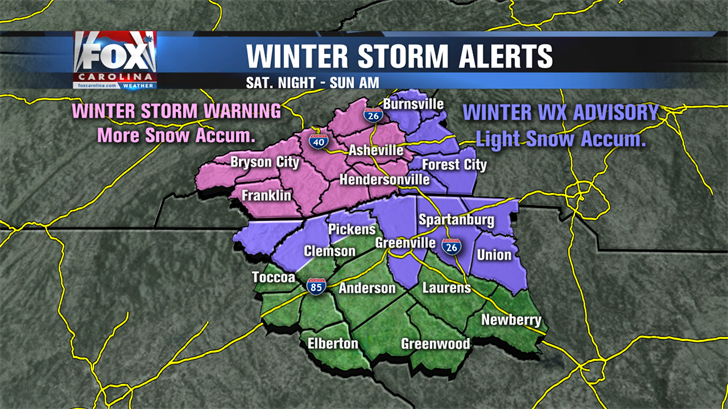 GREENVILLE, SC (FOX Carolina) -
A few flakes have flown around and reached the ground in parts of western North Carolina, but for the most part, today will be the calm before the storm with fairly quiet conditions. We'll see mostly cloudy skies with a few rays of sun with afternoon highs in the middle 40s in the mountains and middle 50s in the Upstate.
Rain will begin and switch over to snow in the mountains around midnight tonight, which will then work its way south into the Upstate after that heading into the early morning hours on Sunday, and then exit by lunchtime.
Based on the latest data, it's looking like more areas in the Upstate will see falling snow with even some light accumulations up to an inch in the northern tier counties in the Upstate and slightly higher amounts in the mountains of those counties.
Areas south of I-85 might see flying snowflakes Sunday morning, but most of it will likely melt on contact with the ground. The highest snow amounts look to remain in the high elevations of western North Carolina where 3-5 inches of it could fall near the Tennessee border while areas near Asheville see around 1-4 inches.
The rest of Sunday will be dry with lingering clouds with partial clearing, with highs only in the 40s before ANOTHER chance of rain and a mix/snow becomes possible again Monday afternoon into Monday night. The rest of the week will be very cold with highs in the 40s and 50s and lows in the 20s and 30s making overnight freezes and crop loss a definite possibility.
Copyright 2017 FOX Carolina (Meredith Corporation). All rights reserved.