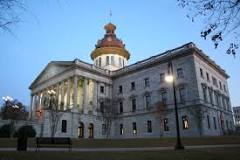 SC Statehouse (FILE)
COLUMBIA, SC (AP) -
Fifteen candidates have filed for the special election to fill the U.S. House seat left vacant by Mick Mulvaney's confirmation as White House budget director.
State Election Commission records show seven Republicans, three Democrats and five third-party candidates filed paperwork by the Monday noon deadline.
Republican contenders include House Speaker Pro Tem Tommy Pope and former state GOP Chairman Chad Connelly. There's also Ralph Norman, who resigned his Statehouse seat after Mulvaney's confirmation as Office of Management and Budget director to concentrate on his campaign.
Among the Democrats are Goldman Sachs adviser Archie Parnell, Army veteran Alexis Frank and Marine veteran Les Murphy.
Primary elections are May 2. The general election is June 20.
Copyright 2017 The Associated Press. All rights reserved. This material may not be published, broadcast, rewritten or redistributed.