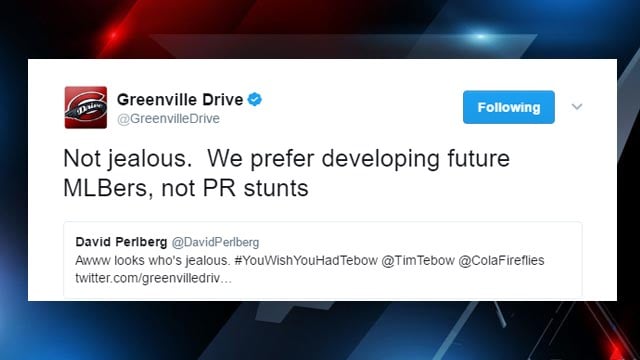 (Source: Twitter)
GREENVILLE, SC (FOX Carolina) -
The Greenville Drive popped back at Twitter users on Monday after the announcement Tim Tebow is joining the Columbia Fireflies.
The Drive will take on the Fireflies at home June 13 through 15. The Drive tweeted after the announcement and said they'll be giving out Burger King Whoppers to everyone if Tebow strikes out three times.
Twitter users responded, accusing the Minor League team of jealousy about Tebow joining a rival team.
The Greenville Drive responded saying, "Not jealous. We prefer developing future MLBers, not PR stunts." The team also joked on its Twitter page that their social media "intern" was having a "severe case of the Mondays."
Copyright 2017 FOX Carolina (Meredith Corporation). All rights reserved.