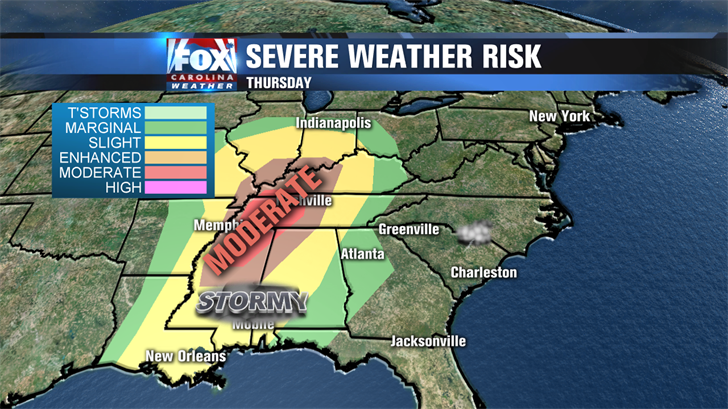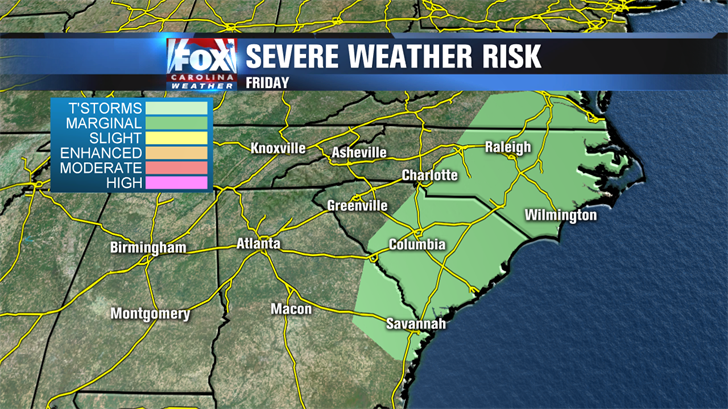 A major severe weather outbreak is underway in the southern plains as a potent area of low pressure spins over northern Texas early Wednesday morning causing 15 tornadoes to form there Tuesday afternoon.
It and it's attached warm and cold fronts will move eastward and cause yet another round of hail, strong wind and tornadoes this afternoon mainly over Arkansas, eastern Oklahoma/Texas, southern Missouri and northern Louisiana.
The Storm Prediction Center has put this area in an "enhanced" risk (3 out of 5) for severe weather, and a "moderate" risk area (4 out of 5) tomorrow in the Mississippi River and Tennessee Valleys as more upper level jet stream energy and instability is added to the storm.
Luckily, it's looking like it'll run out of steam by the time it makes it to the western Carolinas which is certainly good news, and even better news for our drought-stricken areas that could see up to an inch of rain by the time it finally moves north of us by Friday night.
A few thunderstorms (perhaps a couple on the strong side) could form, but notice our official severe risk is low on the coast, and almost non-existent in the Upstate.