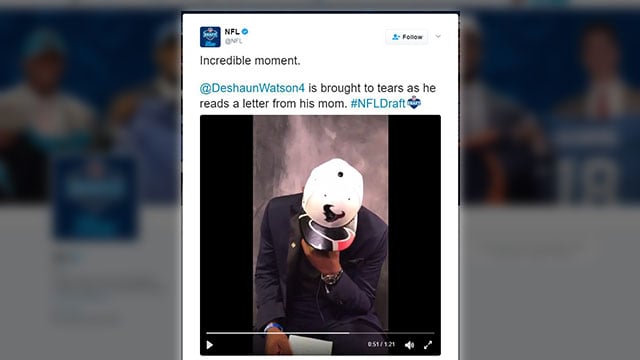 Deshaun Watson reads emotional letter (Source: Twitter/NFL)
CLEMSON, SC (FOX Carolina) -
Thursday was a big night for Deshaun Watson with the former Clemson quarterback being picked 12th overall in the 2017 NFL Draft.
Watson attended the draft ceremony with his mother, who he said has always been a huge support figure in his life.
The NFL shared an emotional video of Watson reading a letter from his mother after he was selected by the Houston Texans.
In the letter, she shared her pride and love for her son saying, "We made it." Watson was moved to tears while reading the letter.
Watch the full video:
LIVE BLOG: NFL Draft 2017
Copyright 2017 FOX Carolina (Meredith Corporation). All rights reserved.