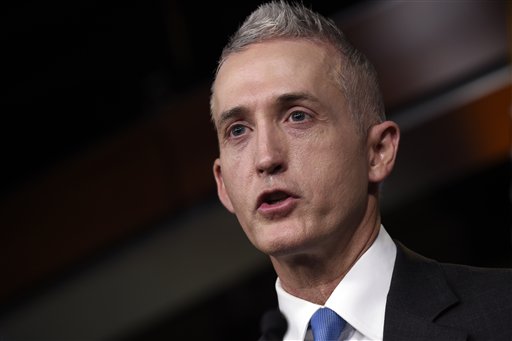 Rep. Trey Gowdy (Source: Associated Press)
WASHINGTON (FOX Carolina) -
By MATTHEW DALY
Associated Press
Congressman Trey Gowdy is known as a dogged investigator of Hillary Clinton. Now Democrats wonder whether the South Carolina Republican will pursue President Donald Trump with the same vigor.
Gowdy is set to become chairman of the powerful House Oversight and Government Reform Committee. He'll be leading a budding investigation into possible ties between Russia and Trump's campaign.
House Speaker Paul Ryan and other Republicans say the four-term lawmaker and former federal prosecutor is the right man for the job.
Democrats are not convinced. Congressman Gerald Connolly of Virginia calls Gowdy "a reliable partisan" and says that's why Ryan picked him for the oversight role, replacing Utah's Jason Chaffetz.
House Republicans are expected to confirm the choice next week.
Copyright 2017 The Associated Press. All rights reserved. This material may not be published, broadcast, rewritten or redistributed.