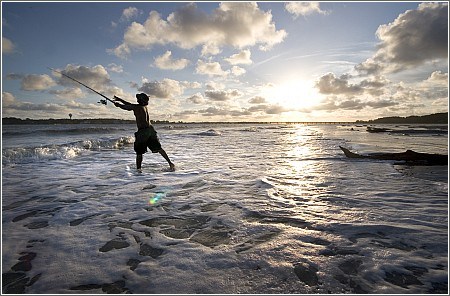 Fishing on Hunting Island (Courtesy: South Carolina Parks)
HUNTING ISLAND, SC (AP) -
A swimming advisory has been lifted for a stretch of a coastal South Carolina state park.
The Department of Health and Environmental Control issued a swimming advisory Thursday for the North Beach section of Hunting Island State Park in Beaufort County.
DHEC's David Payne says the advisory was issued because storm water was being pumped onto the beach to relieve flooding of park roads.
Payne says high bacterial levels were found in that part of the beach and swimming was not advised until bacterial levels returned to normal.
Just after 8:45 p.m. Friday, DHEC announced that the swimming advisory had been lifted after bacteria levels returned to normal in the area.
"The affected area was 200 feet above and below the beach access on North Beach at Hunting Island State Park (Beach Monitoring Station LC-090)," Payne explained. "The reason for the advisory was storm water being pumped onto the beach to relieve flooding of roads in the park. That pumping has been stopped."
Payne said normal activity can now resume in the area.
Copyright 2017 The Associated Press. All rights reserved. This material may not be published, broadcast, rewritten or redistributed.