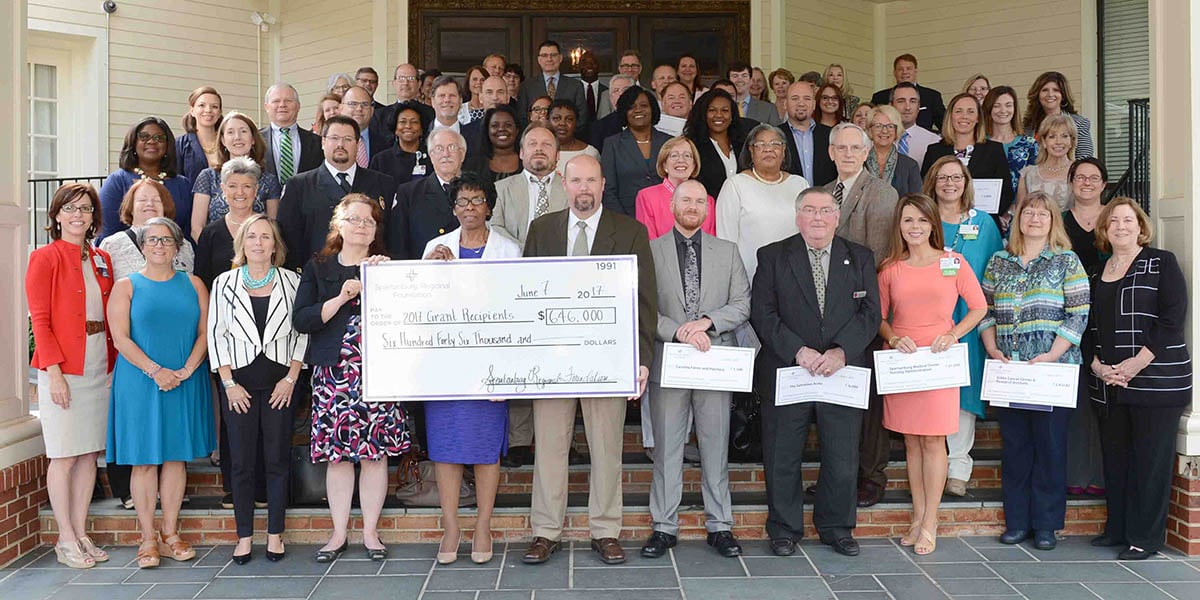 This information is provided and sponsored by Spartanburg Regional Healthcare.
From improving areas in the hospital through renovations to providing an automated chest compression machine, and counseling to previously incarcerated women, the Spartanburg Regional Foundation is continuously working to improve the health of our community by providing grants.
This year, the Spartanburg Regional Foundation awarded $646,000 in grants to 30 different recipients during their annual grant awards ceremony that was held June 7 at the Piedmont Club in Spartanburg.
"We are proud to support nonprofits and healthcare system programs that make Spartanburg healthier," said Kristy Caradori, executive director of the Spartanburg Regional Foundation. "We are grateful to our community for the opportunity to give back to improve health and wellness."
2017 Spartanburg Regional Foundation grant recipients include:
AccessHealth Spartanburg




$67,790




This grant provides funding for a new AccessHealth building and patient screening tools.

Angels Charge Ministry


$5,000




This grant provides funding for previously incarcerated women who need intensive behavioral health counseling, medications and dental care.

BirthMatters


$1,750




This grant provides assistance with staff training for doula certification.

Carolina Farms and Hatchery


$1,500




This grant funds equipment to support a food donation program

Christmas In Action


$11,000




This grant provides funding to build or repair wheelchair ramps and provide home repairs to disadvantaged elderly or disabled homeowners in Spartanburg County.

Faith, Hope and Love Christian Ministries


$4,000




This grant provides funding assistance to increase the capacity of a halfway house for men.

Gibbs Cancer Center & Research Institute


$2,433




This grant funds a pilot program for a young clinical investigators camp at Gibbs Cancer Center &

Research Institute.

Greer Relief & Resources Agency




$8,000




This grant provides funds for a software program called Charity Tracker to help prevent homelessness for at-risk disabled and/or elderly members of Greer, Taylors, Duncan, Lyman and Wellford communities.

Hatcher Garden & Woodland Preserve


$10,000




This grant provides funds for materials to build a handicap accessible multi-sensory garden.

Healthy Smiles of Spartanburg, Inc.


$10,000




This grant provides funds to purchase equipment and supplies for the Pediatric Oral Health Program.

Landrum Rescue Squad


$11,000




This grant provides funds to purchase an Automated Chest Compression System for the Landrum area.

Medical Group of the Carolinas—Senior Health
$5,000


This grant supports elderly patients with transportation, medical equipment or prescriptions.

Middle Tyger Community Center


$20,000




This grant provides funding assistance to renovate the driveway and entrance of the Senior Wellness Center so the facility will be accessible to visitors with disabilities.

Project HOPE Foundation


$15,000




This grant provides funding for the renovation of a new therapeutic clinic in Spartanburg for children with autism.

Road to Royalty


$750




This grant provides funding to purchase supplies and materials for a pilot program in Woodruff to promote self-awareness, sisterhood and leadership among nine- to 12-year-old girls.

Spartanburg Medical Center Administration


$154,676


This grant provides funding for renovations of a new Employee Health location